Because Dogs are Born to Play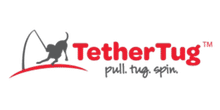 Dog Day Afternoon is proud to carry Tether Tug. in Belleville, Illinois. Sometimes plans change. We did not set out to be a dog toy company. Thankfully though, that is where we ended up! Little did we know that a pet project in our group would ignite a passion to develop fun, healthful, and interactive products for something dear to our hearts………Dogs! We love dogs! They are integral valued members of our families.
What began as a toy to help Lizzy, a lovely mixed breed rescue, burn energy and spend time with her person grew into Tether Tug Interactive Dog Toys. Our toys are designed to benefit the whole dog--physical, mental, and emotional. Our mission at Tether Tug is to provide products that contribute to dogs' overall well being by challenging them physically and mentally. Activity that engages a dog physically & mentally will also benefit a dog emotionally. We all know they have feelings! Ours feel strongly about treats, couch snuggle time, and chipmunks that invade their yard.
Dog Toys
BIG Tether Tug
Small Tether Tug
Handheld Tug Toy For Dogs
Ball Toy Plus
Bite Tug Toy
Braided Fleece Toy
Come visit our pet supply store in Belleville, IL specializing in quality food, treats, and supplies for cats and dogs. We offer quality, professional grooming.