Nutrition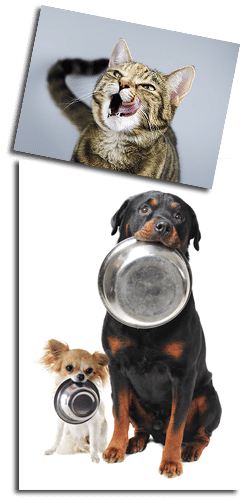 At Dog Day Afternoon we believe that nutrition is the cornerstone to good health and a long, happy life. That is why we carry only the best pet foods available and seek to educate our clientele so that they are able to decide which products work best for their pet and their lifestyle. Mainstream pet foods found at your local supermarkets and larger corporate pet stores are often packaged with preservatives, artificial coloring, animal by-products, and fillers that lack any nutritional value. These additives can be harmful, manifesting in your dog or cat as skin allergies, ear infections, and even digestive upset.
Here we offer several healthier alternatives, with an emphasis on natural, simple ingredients and a 'back to basics' approach to your pet's diet. We find that when it comes to pet food, less is more! Choose from our great selection of grain-free foods, which can eliminate unnecessary carbohydrates, reduce allergen sensitivities, and provide key proteins specially formulated for your pet's lifestyle. Or try our healthiest option yet and go raw! We proudly carry a variety of raw, frozen grain-free foods, supplemented with natural fruits and vegetables designed for a perfect balance of nutrition.
Also available at Dog Day Afternoon is an assortment of supplemental oils, vitamins, enzymes, and probiotics that can be added to your pet's daily feeding routine to help with skin and coat conditions, digestion, joint health, and overall well-being. Eat well, live well, and feed with love!
Come visit our pet supply store in Belleville, IL specializing in quality food, treats, and supplies for cats and dogs. We offer quality, professional grooming.