Belleville Dog Grooming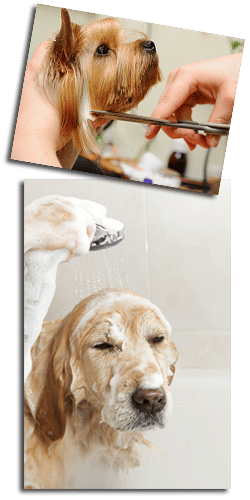 Grooming and bathing are essential to your pet's health and happiness! The experienced pet stylists at Dog Day Afternoon are here to ensure a professional, quality groom where your dog's unique coat and personality are taken into consideration. Making safety and comfort a priority, most of our dogs are hand dried, while others are relaxing in their kennels with our heatless fresh air dryers. The products we use are all natural, free of harsh chemicals and detergents, and are also available for purchase.
Your dog will have one on one attention from their groomer in their start-to-finish appointment. This allows for minimal kennel time, a quicker groom experience (expect 1-2 hours, depending on size and breed) and most importantly, less stress for your pet! Our standard groom package includes a bath, ear cleaning, brush, haircut, and nail trim. Other add-ons like dental care, and de-shedding are also available upon request. Don't forget to ask about our amazing mud bath treatment!
We are sorry but we are not currently accepting dogs weighing over 85 pounds. If you'd like to make an appointment with us, please give us a call!
Come visit our pet supply store in Belleville, IL specializing in quality food, treats, and supplies for cats and dogs. We offer quality, professional grooming.