YOUR #1 SOURCE FOR WHOLESALE PET HARNESSES, COLLARS, AND LEASHES!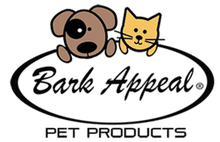 Dog Day Afternoon is proud to carry Bark Appeal in Belleville, Illinois. Bark Appeal is a family owned wholesale company specializing in pet harnesses, collars and leashes. With our customer service, competitive pricing, quality and 100% guarantee, make our products the ideal choice for your customers.
Pet Products
BREATHE EZ
PULL-OVER HARNESSES
WRAP-N-GO HARNESSES
NETTED EZ WRAP STEP-IN AND WRAP-N-GO HARNESSES
MATCHING LEASHES- SOLID, PLAID, NETTED, & REFLECTIVE
REFLECTIVE COLLARS, LEASHES & TWO-WAY COUPLER
GREEN DOG WASTE BAGS
RAD POOCH™ STICKERS
CAT TEASER WAND W/ FEATHER
PLUSH PET TOYS
TREAT POUCH
COLAPSIBLE FOOD AND WATER BOWL
Come visit our pet supply store in Belleville, IL specializing in quality food, treats, and supplies for cats and dogs. We offer quality, professional grooming.